WMBR's once-a-year fundraising drive continues through Wednesday.
Have you made a pledge yet?
If you have, thank you very much! If you are still waiting, please help support a 30-year tradition of quality, noncommercial radio on the Late Risers Club by making a pledge to support WMBR.
You may make a secure pledge online here.
If you call in to (617)-253-8810, during the Late Risers Club show, we are offering an additional fundraising premium. For a pledge of at least $60, we'll send you the LRC T-shirt and a special CD with highlights from the 30th anniversary shows, with all your old favorite LRC DJ's. This offer is ONLY available by phone during the regular LRC hours.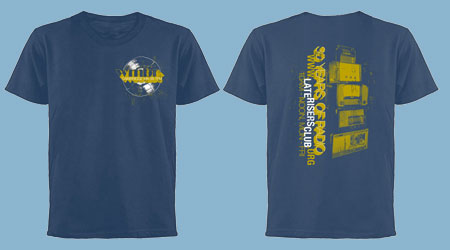 (click image for a larger view)
This shirt will never be offered again, so pledge now!
Check out the fundraising site for information about other cool premiums like travel mugs, long-sleeve T-shirts, hoodies, and windbreakers.
Thanks!